REGARDING THE INTERNATIONAL STANDARD ISO 14001 IN FORCE AND WITHIN THE SCOPE OF APPLICATION OF THE INTEGRAL MANAGEMENT SYSTEM, QUÍMICA DE PAVIMENTOS, S.A PUBLISHES ON ITS WEBSITE, AVAILABLE TO ALL INTERESTED PARTIES, RELEVANT INFORMATION ON THE ENVIRONMENTAL ASPECTS IDENTIFIED AND EVALUATED IN THE DEVELOPMENT OF ITS ACTIVITY. WE WILL KEEP THIS INFORMATION UPDATED BASED ON SUBSTANTIAL CHANGES IN YOUR ACTIVITY OR NEW ACTIVITIES OR SERVICES THAT MAY BE DEVELOPED.
La Norma Internacional ISO 14001 define aspecto ambiental como "Elemento de las actividades, productos o servicios de una organización que puede interactuar con el medio ambiente. La misma norma define impacto ambiental como "cualquier cambio en el medio ambiente, ya sea adverso o beneficioso, como resultado total o parcial de los aspectos ambientales de una organización".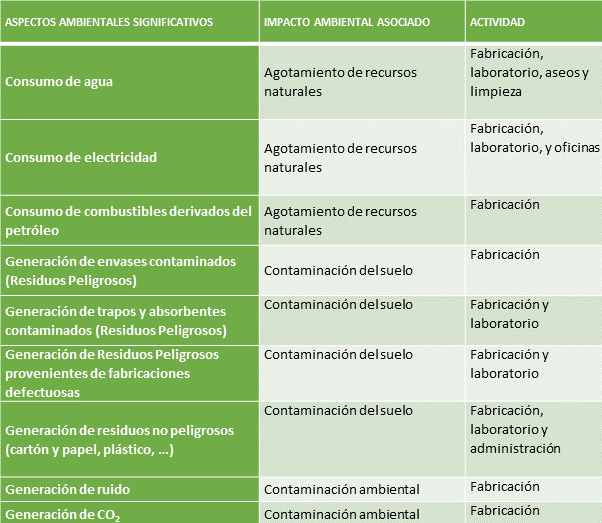 ASPECTOS E IMPACTOS AMBIENTALES EN QUÍMICA DE PAVIMENTOS S.A
WE ASSESS ENVIRONMENTAL IMPACTS ANNUALLY BASED ON NATURE, MAGNITUDE AND TOXICITY/DANGEROUSNESS CRITERIA, AND WE ACT ON ALL ENVIRONMENTAL ASPECTS WITH A HIGH LEVEL OF SIGNIFICANCE WITHIN THE SCALE OF OUR PROCEDURES.